Your Space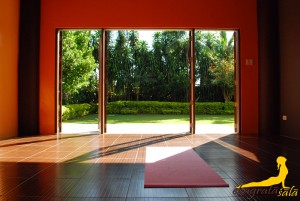 Ekāgratā Śālā is a non-commercial, home-based yoga space inside Ayala Alabang. The space can accomodate up to 15 students comfortably and has a beautiful garden view.
There are 4 classes offered, Ashtanga Vinyasa Yoga, Yin Yoga, Vinyasa Yoga and Pregnancy Yoga. Compared to the larger classes in commercial studios, classes in Ekāgratā Śālā are relatively small in size to provide students a more personal practice and allow Karen to give each student more personal guidance and care.

Scheduled class rates are P300 / student / class.Pregnancy Yoga rate is P500
Special rates for special/private classes may be discussed.
Your Teacher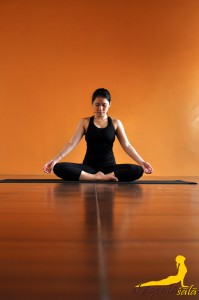 Karen started practicing yoga in 2002 and finally took her 200-hour teacher training under Clayton Horton and Mo Ching Yip of Greenpath Boracay Yoga in 2009 for Ashtanga Vinyasa Yoga, Sivananda Yoga and Vinyasa Yoga. She has since continued her yoga journey by taking teacher training under Victor Chng for Yin Yoga, Sadie Nardini for Core Strength Vinyasa Yoga and Linda Naulty for Stretch Instruction. Recently she attended Birthlight Perinatal Yoga Certification Course under Françoise Barbira Freedman and is currently finishing her post training coursework to be certified. Her thirst for knowledge and understanding has led her to continue joining workshops under John Scott, Manuel Ferreria and Lucia Misa. To this day, she says that she is as much a student as she is a teacher, believing that the two go hand-in-hand.
A yoga teacher with an MBA from the Asian Institute of Management, Karen uses all that she's learned about business to help her make sure that her Śālā isn't run like one. Believing in yoga practice that is focused on the present and energy flows between teacher, students and space, she sticks to the traditional pay-as-you-come setup. Not wanting her students to feel like they're forced to come because they've already pre-paid for classes or must make full use of their membership, she often tells her students, "It would be better if you to come to class when you want to because you want to be here."
Long after her classes end, Karen can usually still be found sitting in her Śālā with students talking about yoga, food, health and life in general. She's always available for her students' questions and concerns, believing that her role as a teacher doesn't end when the class ends.