Made for Movement Yoga and Travel (MaMo) products are now available in our space.

I don't carry all of their products though. What I have are the UltiMats, Travel Towels and Skidless Yoga Towel w/ silicone dots.

The UltiMats come in 3 sizes. They are made with high density, non-toxic PVC.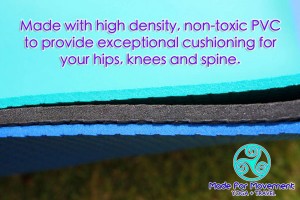 Queen which is the regular sized mat (although it is longer than my Jade Yoga mat). Thickness: 4mm Dimension: 60cm x 180cm (Grey, Maroon, Pink and Turquoise) P2,250
King a wider and longer version of the Queen. Thickness: 4mm Dimension: 66cm x 185cm (Blue only) P2,550
Ace is a thicker and wider version of the Queen. Thickness: 6mm Dimension: 66cm x 180cm (Black only) P3,000
These mats are pretty sticky when you first roll them open.  It has a nice grip.  It is a heavy mat since it's really dense.  It's not cushy at all.  I personally don't like cushy mats since they affect the distribution of weight of the practitioner.  Some have mentioned that it's almost like the Manduka Mats.  I wouldn't really know if it's true or not since I don't own a Manduka mat.  Downside is that it gets slippery when it wet.  To remedy that, I use a towel to just wipe off the sweat. (I prefer to practice skin on mat and not on towel unless I'm sweating profusely that day)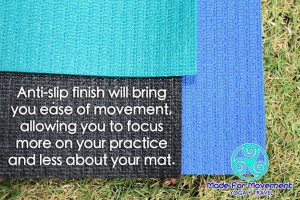 It's a good replacement for my existing mat.  My other yoga mat is the Jade Harmony mat which I love to pieces… And literally it is falling into pieces…

 I've used it for almost a year and I find mat flakes all over my clothes and skin. I still recommend that mat to anyone who asks.  It's light, grippy,  eco-friendly (biodegradable) but it's pricey since it is meant to degrade after so many uses.

I hear this UltiMat lasts long.

Travel Towels are also available.  These are made of Microfiber fabric.  It isn't like the ones from Aquazorb unless they have new ones that I haven't seen.  These are lighter.  I personally own a lot of Aquazorb towels (light series, sport towels, fluffy yoga mat towel, siliconed yoga towels… obviously I was a fan).  Having said that, I REALLY like these Microfiber Travel Towel of MaMo.  I own a beach towel and a hand towel.  The hand towel is enough to dry us from head to toe.  It absorbs FAST and if you can easily squeeze out the water.
Hand Towel: 41cm x 70cm (White, Black, Margarine Yellow, Navy Blue, Powder Blue) P250
Bath Towel: 70cm x 134cm ( White , Black, Margarine Yellow, Butter Yellow, Navy Blue, Powder Blue, Lawn Green, Midnight Green) P500
Beach Towel: 80cm x 150cm (Black, Navy Blue (dark), Cerulean Blue (middle), Powder Blue (light), Butter Yellow (light), Margarine Yellow (darker) P650
Yoga Mat Towel: 65cm x 185cm (Margarine Yellow, Butter Yellow, Powder Blue, Navy Blue) P750
Some of the features are Compact Design, Light Weight, Super Absorbent, Quick Drying, Non Fraying Fabric, Tear Resistant, Lint Free, and Machine Washable.  Dark colors (Navy Blue and Black, Midnight Green) are suggested to be washed with warm water for the first wash. For succeeding washes, wash together with your dark-colored clothes. DO NOT BLEACH, IRON OR USE FABRIC CONDITIONER.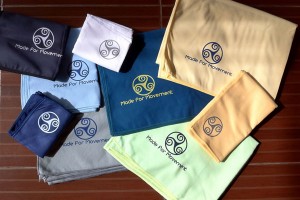 Then there is the Skidless Yoga Mat Towels with Silicone Dots.  The size is 183 cm X 61 cm. Made with 100% Silicone nubs which is environment friendly and Microfiber fabric similar to Yogitoes.  Please DO NOT BLEACH, IRON OR USE FABRIC CONDITIONER.  Available at these colors: Light Pink, Dark Blue, Yellow with Orange Stitching, Purple, Green, and Maroon. P1,500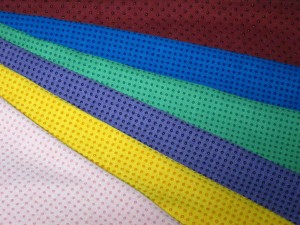 If you're interested in buying, email me at karen @ ekagratasala.com or text me at +63917 8436111 to inquire about availability.

Peace.
-Karen